When it comes to wedding decor, trends come and go; remember when weddings were all bunting, doilies and baby's breath? Or guest tables housed vintage-inspired tablescapes, dripping in pearls? Going into 2020, we are saying goodbye to a lot of the shabby chic/ vintage/ rustic decor we have been seeing for the last few years. Wedding looks are heading into a more modern, minimalist and classic feel and it is a trend we love!
Trends aside, one of the most important aspects of wedding decor is this: So often I see brides fixated on that one colour/motif/theme for their wedding, and they don't realise that beautiful tablescapes do not have to subscribe to all the decor elements matching perfectly. Cohesion is key, and colour palettes with accents are what you should be looking at.  If rose gold is your thing, think about bringing it in as an accent colour paired with a natural colour palette versus having rose gold candelabras, flower pots, votives, underplates, sequin runners and cutlery. Your tables should tell a story via the harmonious colour, textures and design elements, all stylishly incorporated – not look like a wedding bazaar.
With this in mind, here are our most desired trends for 2020:
BLACK IS BACK BABY
This trend is strong and makes a statement. Black is a dramatic twist on the usual neutral/pastel-coloured tablescapes we are so used to seeing on Pinterest and Instagram. This look speaks to the sleek and modern bride, who is bold and somewhat edgy. The beauty is in the contrast of dark and light. You can play around with this trend by incorporating whites and grey for a more monochromatic look, or stick to the black and darker colours (in linens/candles/florals, etc). Alternatively, use black as the accent colour. Either way, if styled correctly, black is a chic alternative to the traditional bridal colours such as blush and gold.
Get this look with our Black Scandi inspired lanterns, candlesticks, bud vases and black tapered candles:
Black Scandi Lantern HERE | Black Scandi Candlesticks HERE & HERE |Black Bud Vase HERE | White & Grey Marble Planter HERE |  Black / Grey Tapered Candles HERE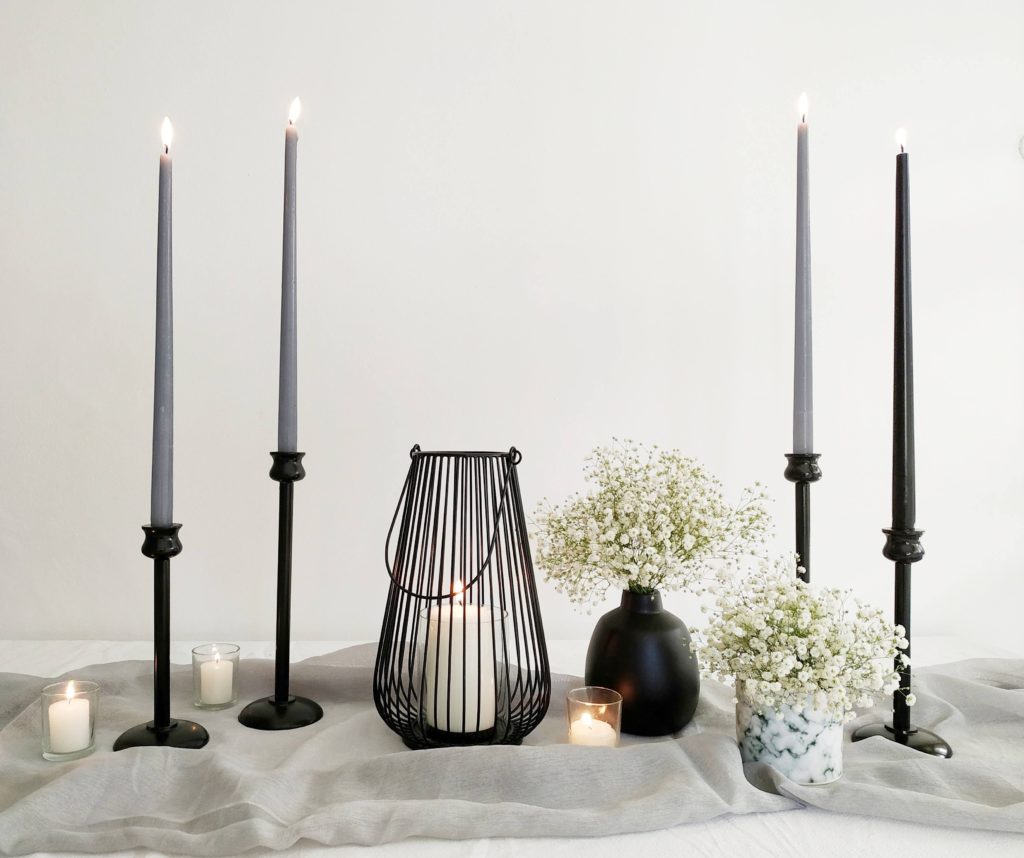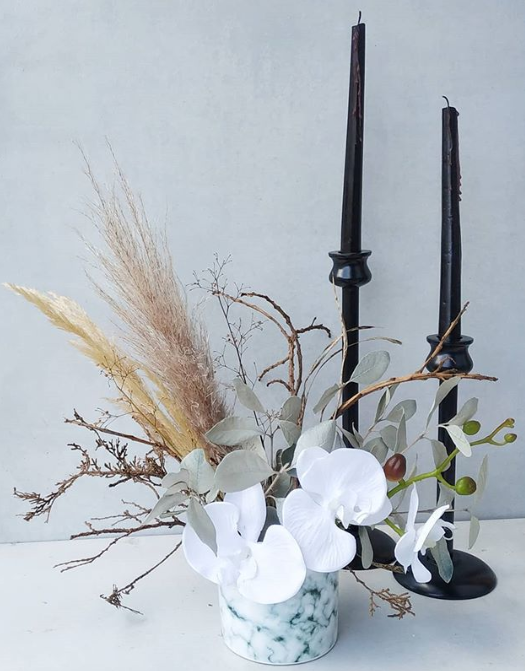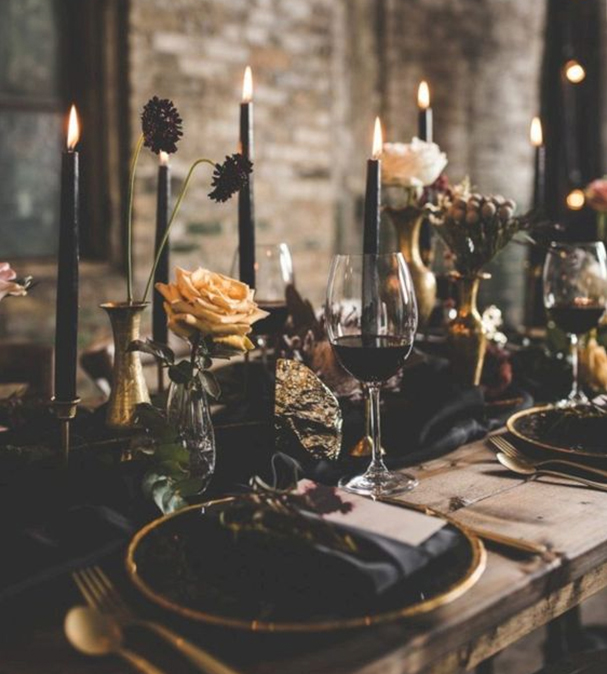 Black wedding tablescape | Photocredit: Visca Wedding
MINIMALISM 
Minimalism is here – making use of 'negative' space can be just as impactful as a fuller tablescape. This is very much in contrast with the super lush floral and green table runners we have been seeing of late. Simplicity, as they say, is the ultimate sophistication and this trend speaks to the mantra of "less is more". Minimalism could mean simpler flowers (think grasses and pampas as an alternative to flowers), smaller, more simplified floral vessels and less clutter.
Use our scandi gold brass candlestick, petit bottles coupled with clear glass votives to achieve this look.
Plain Glass Votive HERE |Scandi Gold Brass Candlesticks HERE & HERE | Petit Bottles HERE
Other items in our rentals to consider: 
Glass Hurricane HERE | Gold Glass Framed Box HERE |Gold Scandi Pot HERE | Glass Tapered Vase HERE | Ivory Planter HERE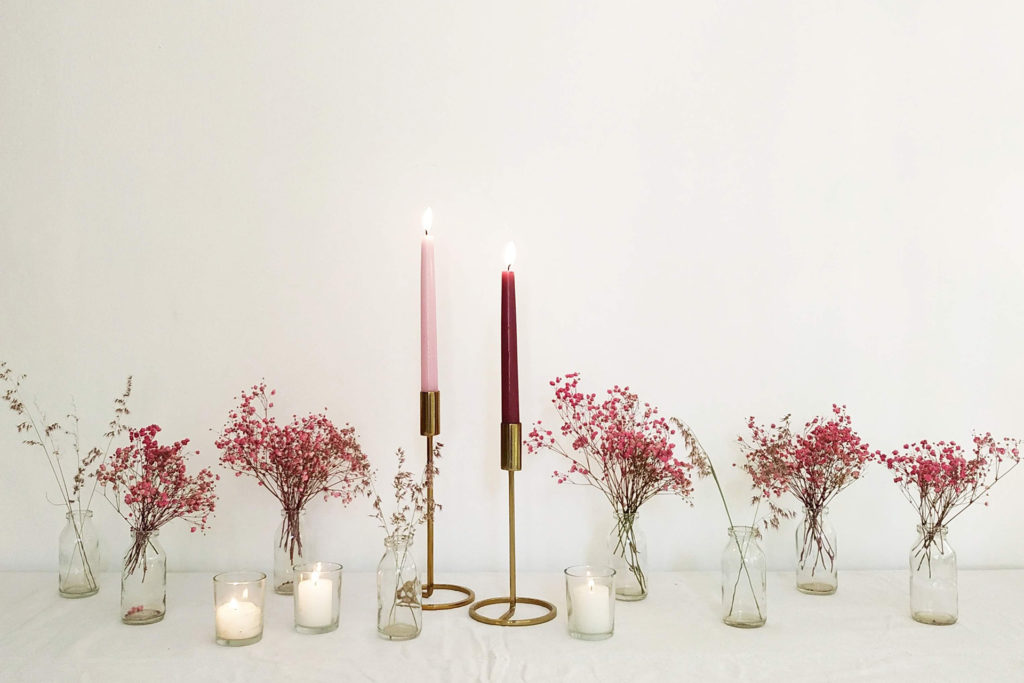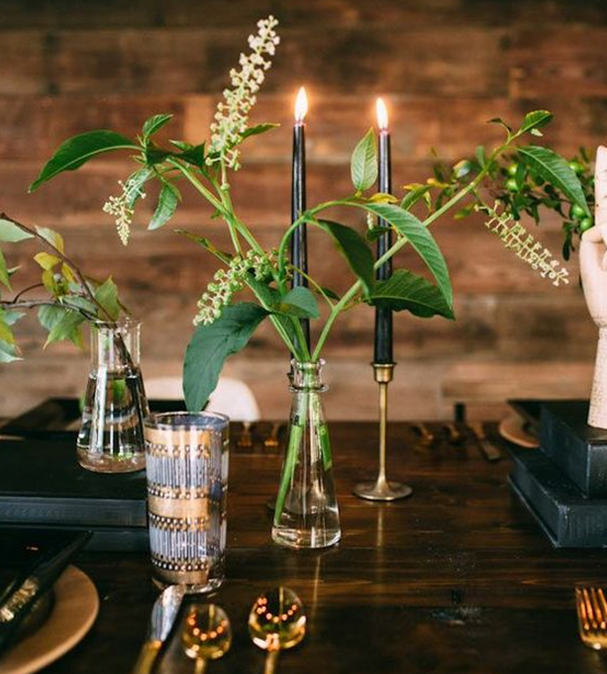 The perfect minimalistic wedding tablescape | Photocredit: Wedding O Mania
MODERN LUXE
This trend is so popular and with good reason! The modern luxe trend calls for drama and is best achieved with lush florals and accented mostly with with glass and gold. Think florals in tones of ivory, white and cream and glass vessels and votives, coupled with sleek gold planters/ tall plinths and candlesticks/candelabras. It's girly chic and almost always overflowing with florals.
Consider using our scandi 4 arm candelabras, an array of votives, gold scandi pots, glass hurricanes, glass tapered vase and gold plinths to achieve this look!
Gold Scandi Candelabras HERE | Votives HERE | Gold Scandi Pot HERE | Shop Ivory Planter HERE | Marble Planter HERE | Gold Plinth HERE | Glass Vase HERE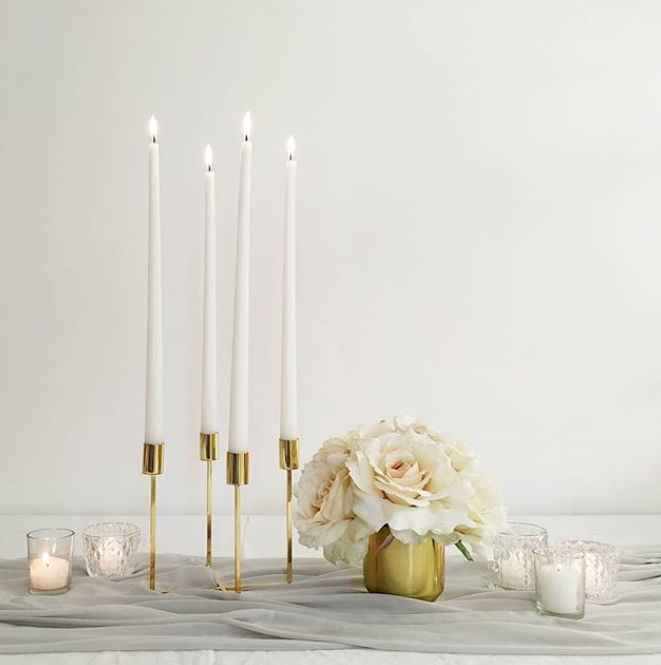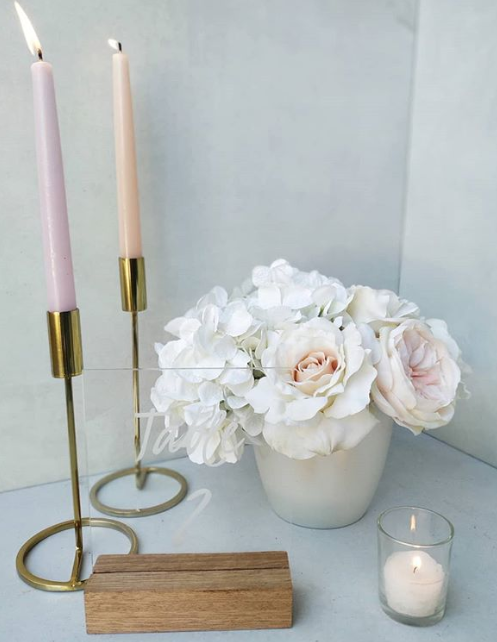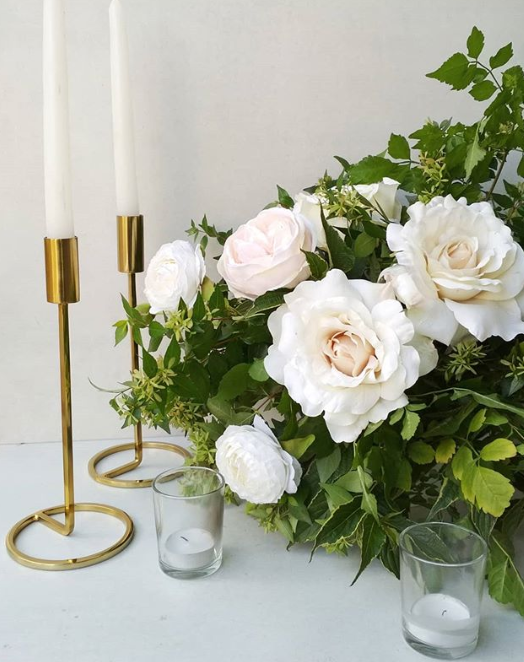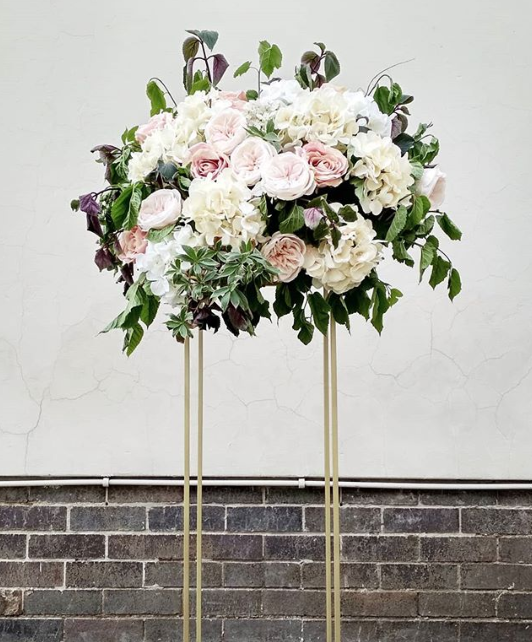 ROMANTIC ELEGANCE
This is an ethereal, classic look and can be expressed in almost any colour tone. Below are examples of warm and cool tones. Think assorted brass or silver candlesticks with lots of votives coupled with flowy fabric runners. These looks are timeless and are very popular on Pinterest and Instagram. The saturated colour palettes and a lot of candlelight are signatures to this look.
Get this look with our ivory planters, compotes, brass candlesticks and white gold candlesticks.
Votives HERE |Ivory Planter HERE |Brass Candlesticks HERE |Brass Vessels HERE | White Gold Candlesticks HERE & HERE | Cream Compote HERE | Silver Compote HERE | Glass Compote HERE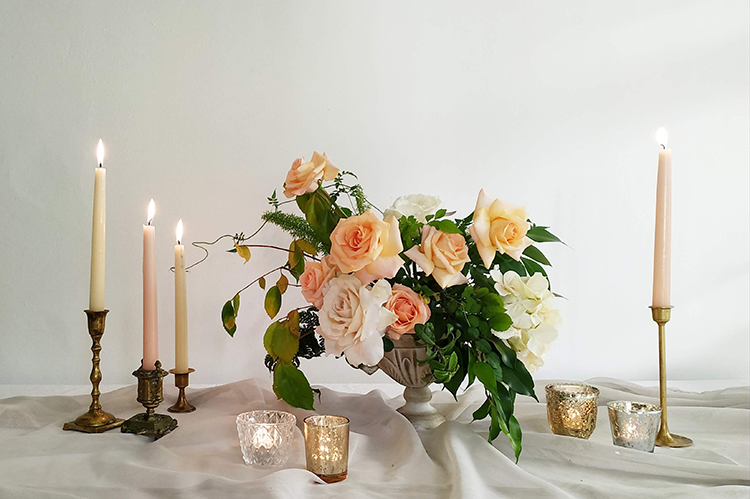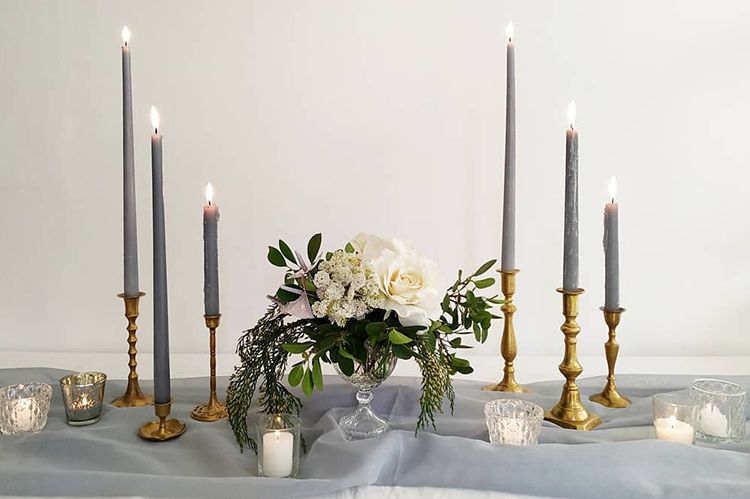 STATEMENT BACKDROPS 
Arches are a wonderful way to add an amazing statement to your big day. Whether you opt for a balloon arch or floral arch it makes for the most beautiful wedding photographs too. For added glam, the copper arch is a wonderful way to bring this trend to life. It is versatile and can be used at a ceremony area, behind a cake stand, or as part of a photobooth. It allows the client endless options and makes the ultimate stylish statement.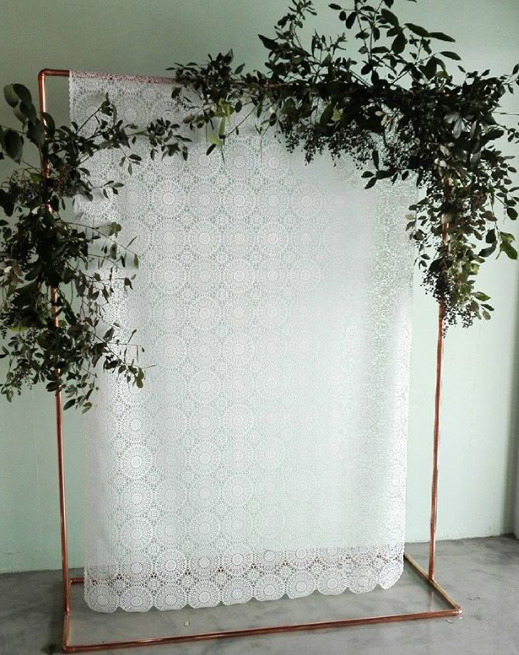 MESH & PLINTH STANDS
Making a big appearance this season, mesh and plinth stands are here to stay for the 2020 wedding season. These stands are great for welcome signage and a table seating chart. You can also opt to use them as part of a ceremony backdrop. Accent with florals or balloons to really make them pop. Dressing up the ceremony area is a trend that we will see continuing into 2020 and what better way to do it than with these stands!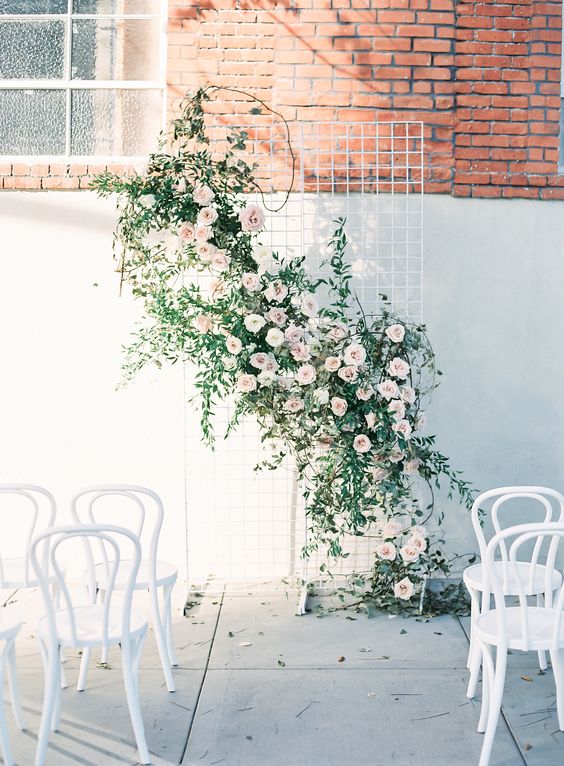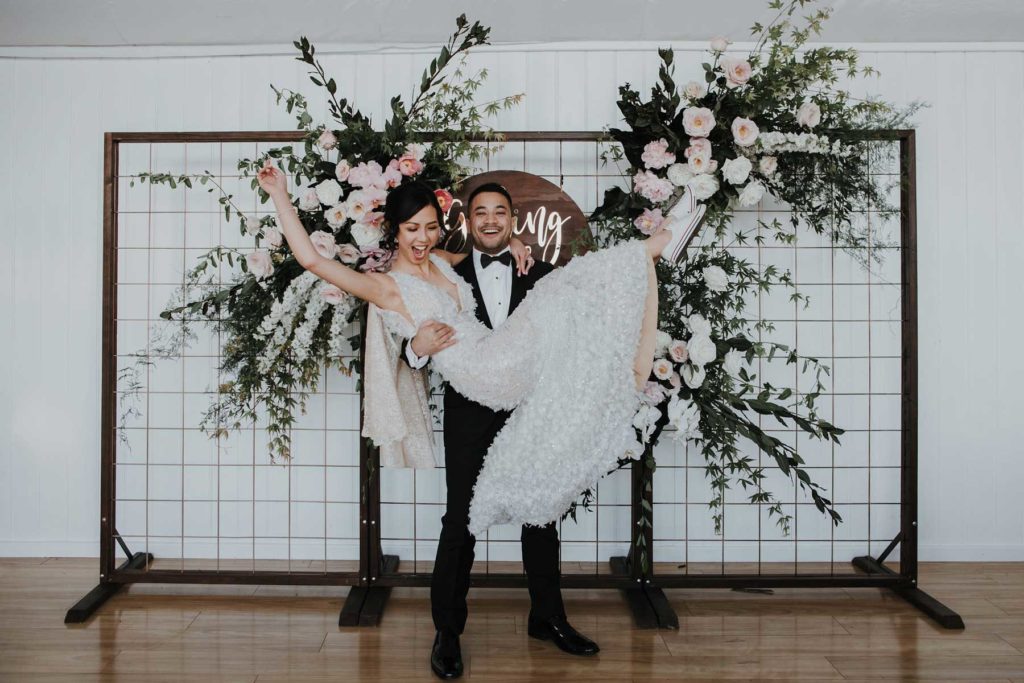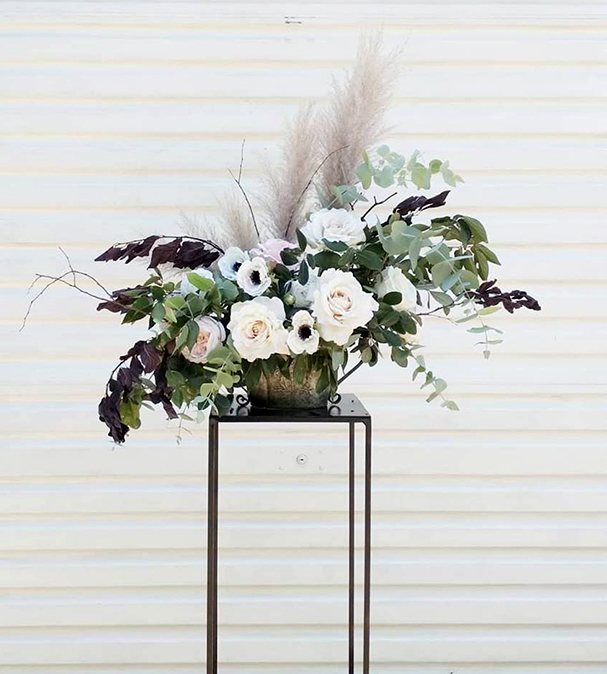 Plinths can also be dressed up with florals and used at table seating areas, ceremony and even cake area!